Neuropunk pt.28 mixed by Bes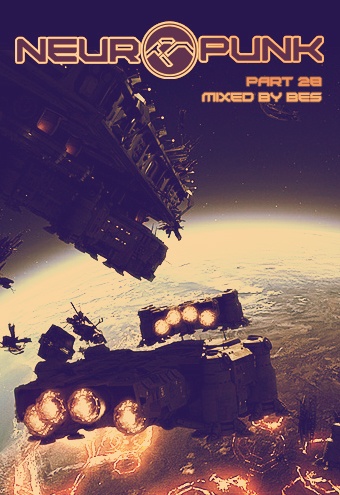 Tracklist:
01. Place 2b & Paimon - Signal
02. Agressor Bunx - Move
03. Neonlight & Receptor - 800-Pound Gorilla
04. Dextems - Bad Blocks
05. Teddy Killerz - New Drums
06. Kubrak - No Fear
07. Receptor & Engage - Gothic
08. Dyamorph - Rainbow Vomit
09. Noel & Krysiz - Operator
10. Kije - Apathy (Directive4 rmx)
11. Loud Sound - Domination
12. Engage - Tyrant
13. MaxNRG - Metro 2033 VIP
14. Receptor - New Message
15. Teddy Killerz & Nphonix - Earthshaker
16. Inf - Mindeater
17. Place 2b - Iron Man (Jabro Grow rmx)
18. D-Iolax - Pyramid
19. Absurd - Thereafter
20. Astrix - Mir (Engage booleg)
21. Noel - Bore
22. Agressor Bunx - Disciples
23. Nphonix & MJ Free - Speedway
24. Receptor - Algebra
25. Kije - Outsider
26. Yabol - Paradise Lost (C.A.2K rmx)
27. NU4M & Mistique ft. NIA - Expulsive
28. Mizo - Hypersensibility
29. Nickbee - I Say You
30. Fade, Andy Pain & Z Connection - Target
31. Hightech - After Us
32. Nickbee - Human Philosophy
33. Flame ft. Shamil - Back In Time
34. Engage - Tourmaline
35. Derrick & Tonika - Nowadays
36. ExR - Contact
Комментарии:

EarlePaw
x0

@ gonilovnik

A few minutes passed, the conductor came to me. I got a ticket, and I ask why it's so quiet, am I alone?
- Wow, what was that? he asked surprisingly.
Please be careful. Slowly, I entered all 20 cm. I pulled out completely, waited for her anus to close back and slowly inserted it again while massaging her pussy. Then she started moving on her own. And knocking me down on the sofa, she sat on top of me, inserting my dick into her ass, then into her pussy. She began to quickly ride on my prichendala.
She shrugged her shoulders, showing her attitude to the question in general, and to the questioner in particular.
massageescort.biz/israel/ashkelon-1
Have you decided to go yet? Roman asked with a smile, he handed her a cocktail.
Now I live in the Leningrad Region, on the Karelian Isthmus, near the Finnish border. I have two whole houses of my own - one for myself, one for guests (the buildings are nearby). The "guest" house is almost constantly busy - people come to me from all over the country. They call themselves my students, but I myself consider them just friends. Friends who need help and whom I want and can help.
none
My name is Christina. I am 23 years old. I have a husband Oleg. We have been married for two years, there are no small ones. At this age, we already had difficulties in bed: little surprise, passion faded. Oleg began to behave like a gray-haired old fart (he doesn't want to fuck on the table, he's tired of BDSM, and sex is on schedule). With my fourth size, I did not know where to spend such a potential. And most importantly, why does he behave like this: a decent dick, hardy in bed. Just at such a difficult time, my sister and her fiance decided to come to me. Then everything happened.
Let me suck you.
Mmm… Bunny! yawning happily, said the awakened Darg. He quickly got up and walked to the front of the wagon. Darg jumped down from her to the ground and sniffed. There are two of them. Female and male. The rabbit is in heat.